Welcome to FYN.iO !

We're a small community running valve game servers and discord events. Our independence lays with the revenue from displaying ads, and we stretch this funding as far as we can! Read more about this on the advertisements page, through the red settings icon above.

Our community proudly provides both virtual and physical merchendise for your gaming hours, log in using the Steam Login button and visit our exchange point to see whats in stock!

18-JUL-2019 | Users Adverts Integrated!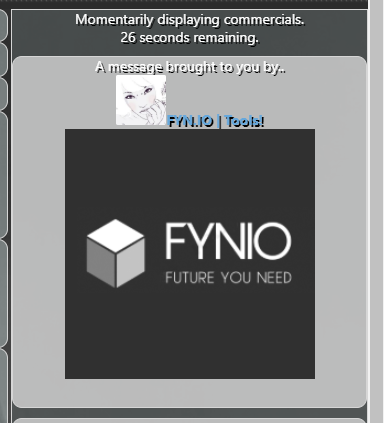 I'm so glad this update was finally put together and uploaded.
There has been a lot of problems with getting advertisements on the website, everybody had their own reasons not to help us out. This is why the users will now be the ones able to advertise here! That's right, your ingame currency can now get your streams more viewers, your YouTubes more visitors, and your website more traffic!
It works by cycling through the images previously uploaded by users, sorting them accordingly so everyone gets a chance, and then having it all be done through the already excisting exchange section!
For a user to upload and share through this system, a needed 1000 points must be spent for the exchange.
The link and image stays permanently in cycle, and you can add it more than once to increase your view chances!
Log in and check it out under "Exchange" within the yellow menu above.

11-JUL-2019 | Reaching out to Gmod

Hey it's Tools here, I've been looking at the Garry's Mod servers for months now, and I can't come up with a concept for them. That's why I'm hoping whoever with a good idea comes across this message, reaches out to me on Discord.
I've seen the capabilities of this game since it's early beta days, and hope to tie it into our system in one way or the other.

08-JUL-2019 | 50% off while testing!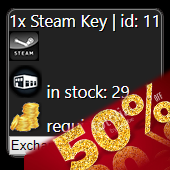 I have lowered the points needed for 1x Steam key to 500 points.
In the future it will be increased back up to 1000, but while everything is still being coded and tested I want everyone the opportunity to give the exchange a try.
It is unclear when the original price is reset and the discount stopped, as it will entirely depend on how much demand for keys is generated.

07-JUL-2019 | Ingame score for Steam keys!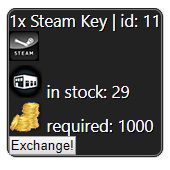 As our first functional exchange I'm proud to present our points for Steam keys exchange!
For 1000 points, currently only in TF2 or CSGO and then whenever a bug feels like it in L4D and L4D2, your exchange is successfull and provides you with a new and unused Steam key available for registry on your Steam account. The key is always randomly chosen, and your previously won keys can be seen in the exchange also. These keys unlock a new game for download and play on your Steam platform.
What exchange, where is this?
Upon logging into our website you will have access to the exchange page through the yellow menu icon.
Your points will be automatically syncronized with your ingame scores on our servers, allowing further transaction.
When you have build up the required points for exchanging, i.e. 1000 points to try your luck at a random Steam key, select the category within the exchange.

Once the category has been selected, you are shown the option to exchange points for a random key. Good luck!

22-JUN-2019 | Level up with MEE6
To provide even more functionality to our Discord server, we have subscribed to MEE6 Pro!
That means we now have a leaderboard for our most social users on Discord, and how much they have levelled up.

09-JUN-2019 | Discord Role Assignment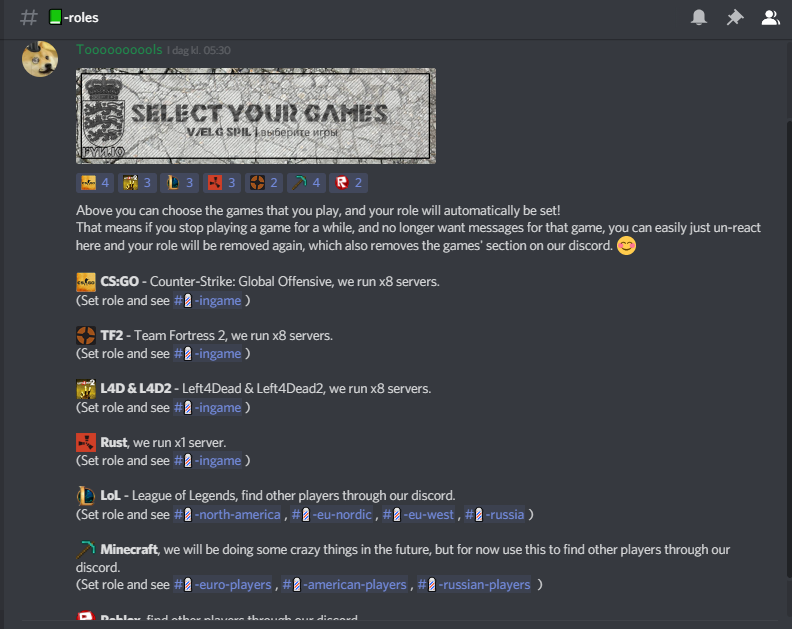 As we support so many games and gamers, we have implemented roles for the individual games. Now you don't have to listen in on irrelevant game talk, only the stuff you are subscriped to!
This means if you are already on the Discord, scroll to the top and find
??-roles
, then select the games that you have interest in.

05-JUN-2019 | CSGO Skins stockpiled!
To increase our awareness within the CSGO community, weapon skins are now being integrated into the exchange system also!
Here is a sneak preview of some skins available, and the points required to exchange for one.
P250 Sand Dune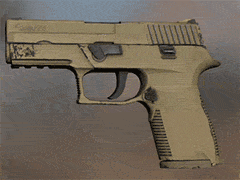 points required: 1150
UMP-45 Gunsmoke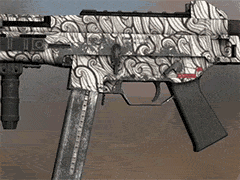 points required: 1900

01-JUN-2019 | Discord successfully integrated!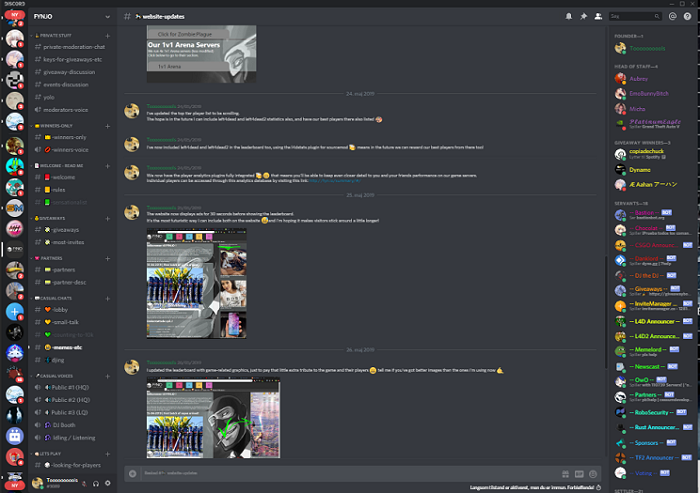 Our discord currently have 5 relays into our ingame servers.
That way you can stay social with our other members, even ingame!
The games with the highest player capacities have their own sections, such as CSGO TF2 and Rust whom we can support up to a combined 256 players
per game
, which may cause a very spammy and chaotic enviorment if all placed together. - Smaller games such as L4D and L4D2 that support only up to a combined 32 players per game, have all been relayed to the #-Looking-for-players section, as they have a much smaller possibility of growing out of control.
In the extreme event that we cap out at around 1344 online players, the chaos will be organized automatically. 💪

To promote our integration between the many systems, we have also partnered with InviteManager. You can read more about the InviteManager Bot
here
- Our paid partnership ensures that our most dedicated members are properly rewarded! We give our most dedicated member a months
Discord Nitro
for their prior months contribution to our community. Read more about this and how to participate in the giveaway on our discord itself, or read more about the features and benefits of having Discord Nitro
here.

15-APR-2019 | First batch of vapes arrived!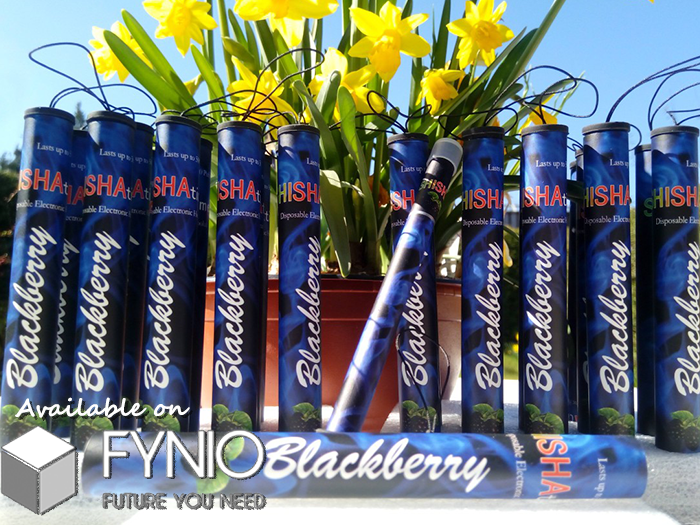 The first line of items are being added to the website!
This means we are very close to truely exchanging points for items!
You can already contact us on discord if you have the required 11500 points.
Shipping will be included with the first 20 vapes, for all international players!
Currently running games..!
There are sections for each under the green home category in the top menu bar.